Twisted Tales - Getting Ahead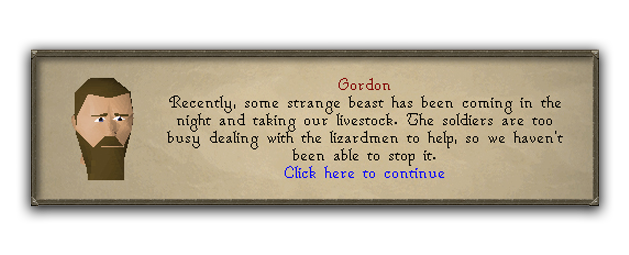 Gordon and Mary are two small-town farmers with a big problem – some heinous beastie keeps taking their livestock! Luckily they've hit upon a solution. They just need some brave adventurer to venture into the creature's lair and bring them back its head. We can't envisage any complications with such a routine matter, right?
If you think you're tough enough, report to Gordon and Mary at their farm south of the Farming Guild in the Kebos Lowlands.
Requirements and Rewards - Click to expand (Spoiler Warning!)


Updates
Desert Achievement Diary
We've changed the Achievement Diary completion tier required to get permanent ropes at the entrance to and inside the Kalphite Lair from Elite down to Hard. That should save a fair few of you an Inventory slot or two!
But that's not all – further changes from Poll #73 will be coming soon!
Leagues II – Trailblazer Changes
While you've been jetsetting around the world of Gielinor we've been busy behind the scenes with the following Trailblazer-exclusive changes and fixes:
Any 'Reach X Total Level' tasks which failed to complete can now be completed by opening the Task interface – provided you have the correct levels, of course.
The task 'Collect Resources from Miscellania while at 100% Favour' is now completing correctly.
Players who've unlocked Morytania can now make breadcrumbs. If you're missing this ability, open your Task interface to acquire it.
The message which triggers upon failing to 'Defeat Vorkath 5 Times Without Taking Special Damage' will now only appear if you have yet to complete the task.

In addition, the description of this task now specifies that it must be five times in a row.

The task to 'Complete 200 Slayer Tasks' is now completable. Those of you who are eligible will complete it upon finishing your next Slayer task.
The following Clue Scrolls have been removed from League II – Trailblazer worlds:

A coordinate clue to dig on the west side of Lizardman Canyon

The fade-out effect when entering a God Wars Dungeon instance is now much quicker.
The doors to the instanced boss rooms in the God Wars Dungeon no longer animate.
Last week we silently resolved a bug that allowed players with Fairy's Flight to teleport above level 30 Wilderness. Following your feedback, we've decided to revert this bug fix. The effects of the Tele Block spell will still prevent teleporting.
Leagues II - Trailblazer Rankings

The end of Leagues II - Trailblazer is fast approaching, so it's a great time to check out the rankings and take stock of how well you're doing. Are you headed straight for a Dragon Trophy, or are you languishing back in Bronze? Check the table below to find out!
Dragon - 37,340
Rune - 26,130
Adamant - 15,330
Mithril - 5,840
Steel - 2,070
Iron - 540
Bronze - 100
Golden Gnomes Winners R

Did you miss our all-singing, all-dancing, all-digital awards ceremony last Friday? No worries! We've got you covered with a big list of all the winners here.
Thank you to everyone who nominated and voted for their favourite creators - and congratulations to all our winners!
Merch Se Updat

Still looking for the perfect present for a 'scaper in your life? Look no further than the Official Merch Store!
This week we've restocked the Spirit Shield Pins and the Protection Prayer Pins sets – and the latter has been updated with an ultra-cool glow in the dark design.

And don't forget – when you spend over £30 (or $50) you'll get a free Black Armadyl Godsword Keyring while stocks last. Spend over £80 (or $100) and you'll also get tracked shipping free.
You can see all our lines right here on the Official Merch Store. Happy Shopping!
In Other News
The PvP World rota is switching over to Period B. On the east of the Atlantic, the hosts are the Standard PvP world (W325, UK), the F2P PvP world (W371, UK) and the Target world (W318, UK). On the west of the Atlantic, the hosts are the Target world (W319, USA) and the High Risk PvP world (W337, USA).
In addition, the members' Last Man Standing worlds, which were set aside for the Prime Plays event, have been reinstated.
The Chambers of Xeric Party Board will now remember the last option set by the party leader.
The 100,000 GP fee should now be paid out on death in the Revenants Cave on a PvP world. Key transfer should once again work in the Revenants Cave on World 45.
Fixed an issue where the Sanguinesti Staff was healing even when an attack splashed.
A typo has been fixed in the description of the Beekeeper Top.
The hand displayed when operating Oaknock's machines in The Eyes of Glouphrie now matches your character's skin tone.